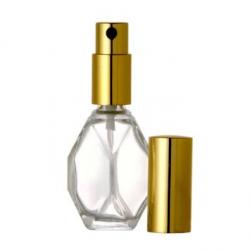 Diamond-shaped glass bottles are a unique and elegant packaging option that can be used for a variety of purposes, from decorative and gift items to packaging specialty products. These bottles get their name from their distinctive diamond-like shape, which sets them apart from standard cylindrical or rectangular containers. Here are some key features and considerations regarding diamond shape glass bottles:
Key Features and Considerations:
Elegant Design: Diamond-shaped bottles are known for their eye-catching and elegant design. They often feature facets or cuts that catch and refract light, adding to their visual appeal.

Versatile Uses: These bottles can be used for a wide range of products, including premium spirits (e.g., whiskey or cognac), decorative oils, perfumes, and other high-end liquid products.

Closure Types: Diamond-shaped bottles typically come with various closure options, such as cork stoppers, screw caps, or decorative glass stoppers, depending on the intended use.

Sizes: These bottles come in various sizes, from small decorative bottles to larger ones suitable for beverage packaging.

Customization: The unique shape of diamond bottles makes them a canvas for creative labeling, branding, and personalization. They are often used for special editions and limited-run products.

Material: These bottles are primarily made of glass due to the transparency and clarity of glass, which complements the design. However, some decorative items may use crystal or other glass-like materials.

Gifts and Decor: Diamond bottles are often used as decorative items and make for attractive and unique gifts for special occasions.

Carafe-Style: Some diamond-shaped bottles have a carafe-like design with a wider base and a long neck, making them suitable for serving and pouring liquids.
How to Use:
Using a diamond shape glass bottle is similar to using other glass containers:
Ensure the bottle is clean and dry before filling it with your desired liquid or product.

Fill the bottle, leaving some space at the top to allow for proper sealing and expansion, if necessary.

Seal the bottle with the appropriate closure, whether it's a cork stopper, screw cap, or glass stopper.

Label the bottle with any relevant information, including product name, brand, and any decorative elements if used for gifts or decor.
Diamond shape glass bottles are a stylish and visually appealing packaging choice for a variety of products. Their unique design and customization options make them a great option for premium or decorative items. When selecting a diamond shape glass bottle, consider the intended use, size, closure type, and any customization to ensure it aligns with your specific needs and branding.