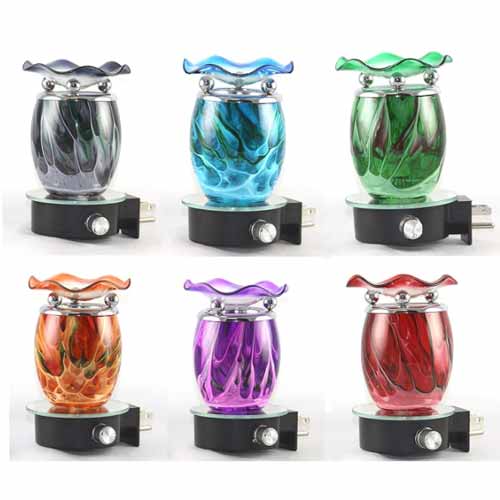 Just Essence offer Hundreds of different models of plug-in electric oil warmers, oil warmer, diffusers, plug-in oil warmers, oil burners, candle warmers, touch lamps and warmers and much more boxed and ready for use.
An electric oil warmer is a device used to disperse the aroma of scented oils, also known as fragrance oils or essential oils, into the air. These devices are designed to enhance the ambiance of a room by filling it with pleasant and soothing scents. Here's how they typically work and some considerations when using them:
How Electric Oil Warmers Work:
Heating Element: Electric oil warmers have a heating element, often located in the base of the device. This element gently warms the scented oil.

Oil Dish or Reservoir: The warmer typically has a small dish or reservoir where you place the scented oil.

Power Source: Electric oil warmers are plugged into an electrical outlet for power. Some may operate with batteries.

Temperature Control: Many electric oil warmers allow you to control the temperature and intensity of the scent, so you can adjust it to your preference.
Considerations When Using Electric Oil Warmers:
Safety: Always follow the manufacturer's safety instructions. Make sure the warmer is on a stable surface and out of reach of children and pets. Unplug it when not in use.

Oil Selection: Choose your scented oil carefully. Essential oils offer various aromatherapeutic benefits, while fragrance oils come in a wide range of scents. Ensure the oil is safe for use with your specific warmer.

Cleaning: Regularly clean the oil dish or reservoir to prevent the buildup of residue from previous oils. Follow the manufacturer's cleaning instructions.

Location: Place the electric oil warmer in an area where you want to enjoy the fragrance. Common locations include living rooms, bedrooms, and bathrooms.

Oil Dilution: Some warmers may require you to dilute essential oils with water before use. Follow the specific instructions provided with your device.

Timer Function: Some electric oil warmers come with a timer function, allowing you to control the duration of use. This can be useful if you don't want the warmer to operate continuously.

Oil Quantity: Use the recommended amount of scented oil according to the device's instructions. Adding too much oil can lead to overpowering scents.
Electric oil warmers are a popular choice for those who want to enjoy the benefits of aromatherapy or simply create a pleasant ambiance in their living spaces. They are easy to use and come in various styles to match your decor.