FRAGRANCE & PERFUME KNOWLADGE BASE

FRAGRANCE OILS VS. ALCOHOL-BASED PERFUMES
We know you love to smell great, but did you know that when you use alcohol-based perfumes the scent is offensive to others around you? You know the feeling of walking into a department store and having your senses assaulted by the harsh smell of dozens of perfumes. When you wear those perfumes and colognes, it's very likely you're causing those in your path to gag from the overwhelming odor.
While fragrance oils are (currently) less popular than spray-on perfumes, their popularity is rising quickly. Oils are more concentrated with less fillers, stick to your skin longer and don't contain dehydrating chemicals. When you spray on an alcohol-based perfume, do you know what chemicals your skin is absorbing? Perfumes and colognes are loaded with synthetic chemicals that have been linked to cancer, reproductive toxicity and allergies. With natural oils, you know everything that your skin is absorbing is safe and suitable for most skin types.
Dry skin has a hard time holding onto scent, so when you use fragrance oils your skin not only gets moisturized but the oils assist in helping retain the scent on the skin for longer. Oil-based fragrances are commonly known as "skin scents" since as your body temperature gradually increases, the oils and scents begin to grow stronger. You and only those close to you will experience the pleasant, natural aromas, not leaving a trail of odor behind you like traditional perfumes and colognes.
Take a look at how fragrance oils and alcohol-based perfumes stack up to each other. Which would you rather put on your skin? We think the choice is clear, it's time to put down the cologne and perfume!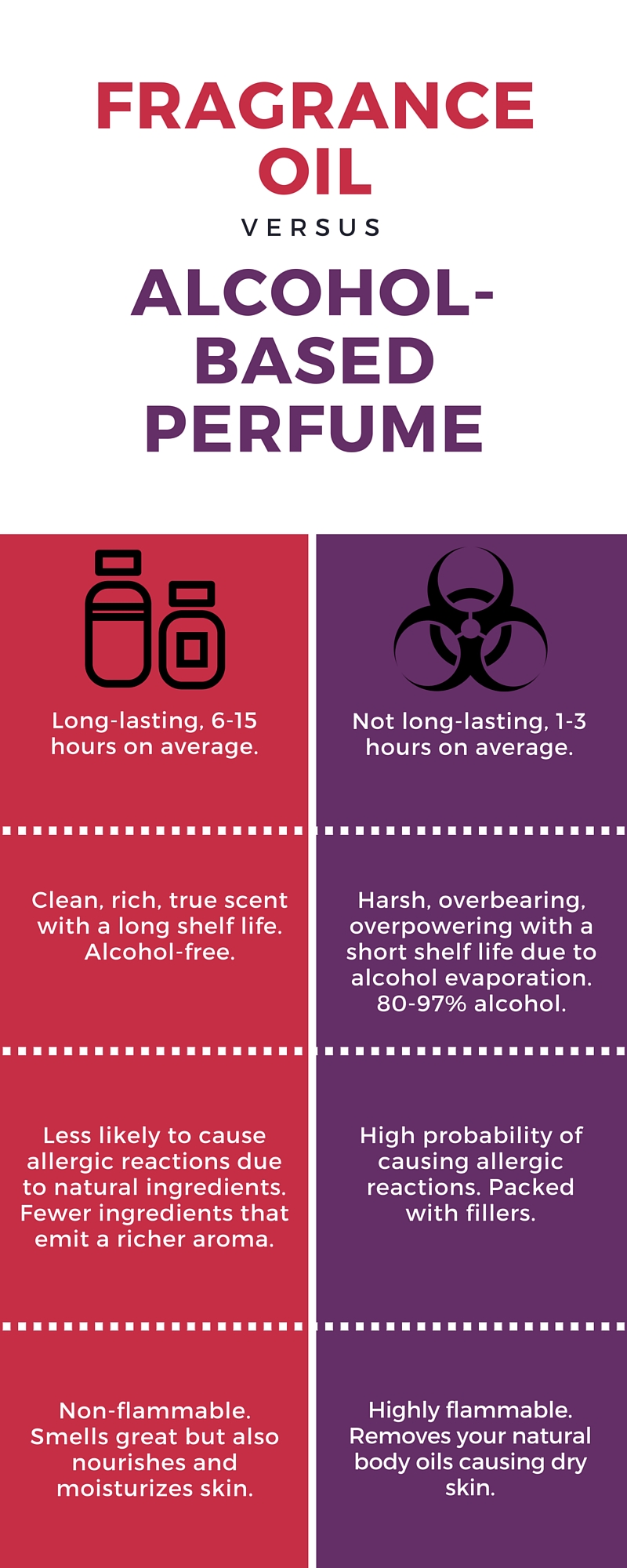 What is fragrance oil used for?
WHAT IS FRAGRANCE OIL USED FOR? Fragrance Oils are the scented oils that are created to be added to products such as scented candles, household cleaners, room sprays, air fresheners, and vaporizers in order to give them pleasant, distinctive aromas or to enable them to diffuse pleasant aromas.
What is perfume oil used for?
Perfume oils are typically used on the skin or clothes as a substitute for traditional scents and alcohol-based perfumes. It masks body odor and helps one smell nice without having a large personal fragrant status. Overall, they provide a more potent, natural scent than mainstream alcohol-based perfumes.
Is perfume oil better than perfume?
Image result for perfume oil
While fragrance oils are (currently) less popular than spray-on perfumes, their popularity is rising quickly. Oils are more concentrated with less fillers, stick to your skin longer and don't contain dehydrating chemicals.
What is the difference between essential oil and fragrance oil?
Image result for fragrance oil
Essential Oils: What's the Difference? The main difference between fragrance oils and essential oils is that fragrance oils are manufactured in a lab and essential oils are made of natural materials. This difference comes from the ingredients that each oil is composed of, and where those ingredients are sourced from.
Is aroma oil and fragrance oil the same?
Fragrance oils are scents that are artificially produced. They may contain essential oils, but do not have to. In contrast, in aroma oils a part (usually around 2%) of essential oils is mandatory. Additionally, they can also contain a large part of synthetic fragrance oils.
How do you apply fragrance oil?
First, take about 2 or 3 drops of the oil on one of your inner wrists or on the palm. Then, gently rub both your wrists together and finally take your wrists and go over your clothing and by your neck to get the fragrance there. This can be done with roller ball oils too.
What is a natural fragrance oil?
Natural fragrance oils are blends of isolates that are derived through many of the exact same processes that are used to get essential oils. The difference is in whether you are extracting an entire compound (essential oil) or a single molecule (natural isolate).
How long do fragrance oils last?
The average shelf life of fragrance oil is about one year. It is dependent on time, temperature, and exposure to air and light. For best results, we suggest purchasing only enough fragrance that you will use within 6 months to a year.
What is the strongest smelling essential oil?
Ylang Ylang Essential Oil: Incredibly strong, sweet and floral, Ylang Ylang has a way of stealing the show in essential oil blends.
What is the difference between perfume and fragrance oil?
1) Strength of smell - Perfume oils are highly concentrated and up to ten times more concentrated than department store perfumes. This quality allows oils to last longer than their eau de perfume counterparts.
2) Alcohol - Perfumes have alcohol in them, which creates different smell effects.
How harmful is fragrance in skincare?
"Fragrance can be an irritant leading to redness, itchy skin and sometimes hives," says Garnier consulting dermatologist Dr. Diane Madfes. "Not all fragrances cause irritation to the same degree. Dry skin is definitely more susceptible to reactions.
Can you use fragrance oil as perfume?
Fragrance oils can be combined with a carrier oil and applied directly to the skin as a perfume, or can be used as one of many scents that make up a complex perfume! Many of these oils, such as frangipani and jasmine, are sophisticated enough to wear alone.
Which is better for fragrance oil or candle oil?
Most DIY candle makers like to use fragrance oils when concocting scented candles, since they're more user-friendly. Essential oils are more challenging because they're more volatile, meaning they have a lower boiling point and evaporate more quickly when exposed to heat.
What oils are used in perfumes?
Among the high-valued essential oils used as fragrances are citrus, lavender, eucalyptus, tea tree and other floral oils, among others, while linalool, geraniol, limonene, citronellol, and citral are much-appreciated fragrance components used in different cosmetics
What ingredient makes a perfume last longer?
Image result
concentrated essential oil
The ingredient that makes a fragrance last longer is the concentrated essential oil, which is why Anuket's roll-on fragrances are all 100% oils. One important thing to remember is that just because YOU can't smell your fragrance on yourself after a certain period of time, doesn't mean the scent is no longer there
What fragrance lasts longest?
Musk and woody families frequently feature among the fragrance notes that last the longest. Particularly if they're present in the base of a perfume. This is because the oils tend to evaporate at a slower rate than those with a fruity or floral base, meaning they're noticeable for longer
What is the difference between aroma scent and fragrance?
Can you use fragrance oil in a aroma diffuser?
How to Use Fragrance Oils in a Room Diffuser. Fragrance oils and essential oils have similar physical properties. For this reason, you can generally swap out essential oils for fragrance oils in any style of diffuser that is meant for essential oils
Can fragrance oils be used for massage?
Combine them with your favourite carrier oil, and fragrance oils can complement a massage oil. Again, if you're looking for relaxing or uplifting properties in your massage oil, use essential oils instead. But if it's all about a glorious, long-lasting scent you're best off with fragrance oils
How much fragrance oil do you put in a diffuser?
Between 3 to 5 drops of an essential oil are recommended to use in a diffuser, if the diffuser's size is 100 ml. So 3 drops is a standard amount that can be used as a trial, if you are using an aroma diffuser for the first time.
What oil do professional masseuse use?
SWEET ALMOND OIL
Sweet almond is one of the most popular massage oils, and most masseuses will carry a bottle or two of this pale yellow oil with them
About Fragrance oil.
Fragrance oils, also known as aroma oils, aromatic oils, and flavor oils, are blended synthetic aroma compounds or natural essential oils that are diluted with a carrier like propylene glycol, vegetable oil, or mineral oil.
To allergic or otherwise sensitive people, synthetic fragrance oils are often less desirable than plant-derived essential oils as components of perfume.[1] Essential oils, widely used in society, emit numerous volatile organic compounds (VOCs). Some of these VOCs are considered as potentially hazardous under federal regulations[2] However, synthetic versions of the same compound as a natural essential oil are usually very comparable. Furthermore, natural oils are in many cases significantly more expensive than their synthetic equivalents.
Aromatic oils are used in perfumery, candles, cosmetics, flavoring of food.[3]
Some include (out of a very diverse range):
Uses for fragrance oils.
1) Use as is on the skin for perfume
2) Put in water for a air freshener spray
3) Use a little behind your pet's ear
4) Put on silk flowers or trees
5) Put on fabric softener dry sheets
6) A few drops on your pillow
7) A drop on your cold light bulb to scent a room
8) Keep a cotton ball with fragrance oil under your car seat
9) Throw some in your bath water
10) Refresh old potpourri
11) Add some to a gift package bow
12) On a hanky in your purse
13) Dresser drawer sachets
14) Add to plain lotion
15) Put in oil for massage
16) Use on a paper towel and tuck in stored shoes
17) Pour a smidgen down a funky drain overnight
18) In water for a cooling personal spray
19) Put on a doorway
20) A little on a sunny windowsill
21) Hide some in a linen closet
22) Add to lingerie wash water
23) In your wood stove water pan
24) On your heat vents
25) Under trash can liners
26) On a love note
27) Freshen a stale basket
28) Use in soap making
29) Add to a wooden necklace
30) Put on a bed headboard
31) Add to a burning candle
32) Put in bath oil
33) Add to stored blankets
34) Use in aroma burner (with water)
35) Under the collar of a jacket
36) In a gym bag
37) On an artificial Christmas tree
38) Add to holiday ornaments
39) Perk up old sachets
40) Put some on a high traffic rug ( under )
41) Use for meditation
42) Put in old sneakers
43) Use in a one minute manicure
44) Refresh car air fresheners
45) Put some in a pencil cup to scent pens etc.
46) For aroma jewelry
47) In water on stove top
48) In cornstarch for a scented powder
49) Pour in the jacuzzi
50) On a tent when camping
51) Add to live flowers with no scent